About us
COVID-19 Resources Canada is a grassroots initiative, started in March 2020 with the objective of facilitating Canada's response to the COVID-19 pandemic.
We are a dedicated team of multidisciplinary Canadians with expertise ranging from biomedical research to web-development and business analysis, virtually working together to execute on COVID-19 Resources Canada's vision and mission.
Vision, mission & goals
Our vision is to support Canada's response to the COVID-19 pandemic
Our mission is to use digital tools and the power of crowdsourcing to rapidly mobilize highly skilled personnel across Canada's diverse healthcare, research, policy, industry, and partner communities to address multiple aspects of the COVID-19 pandemic.
Our goals are to:
Serve as a reliable source of information and expertise for COVID-19 research in Canada
Support & facilitate coordination of Canadian COVID-19 research efforts
Support COVID-19 capacity-building in public health, research, anti-misinformation and grassroots initiatives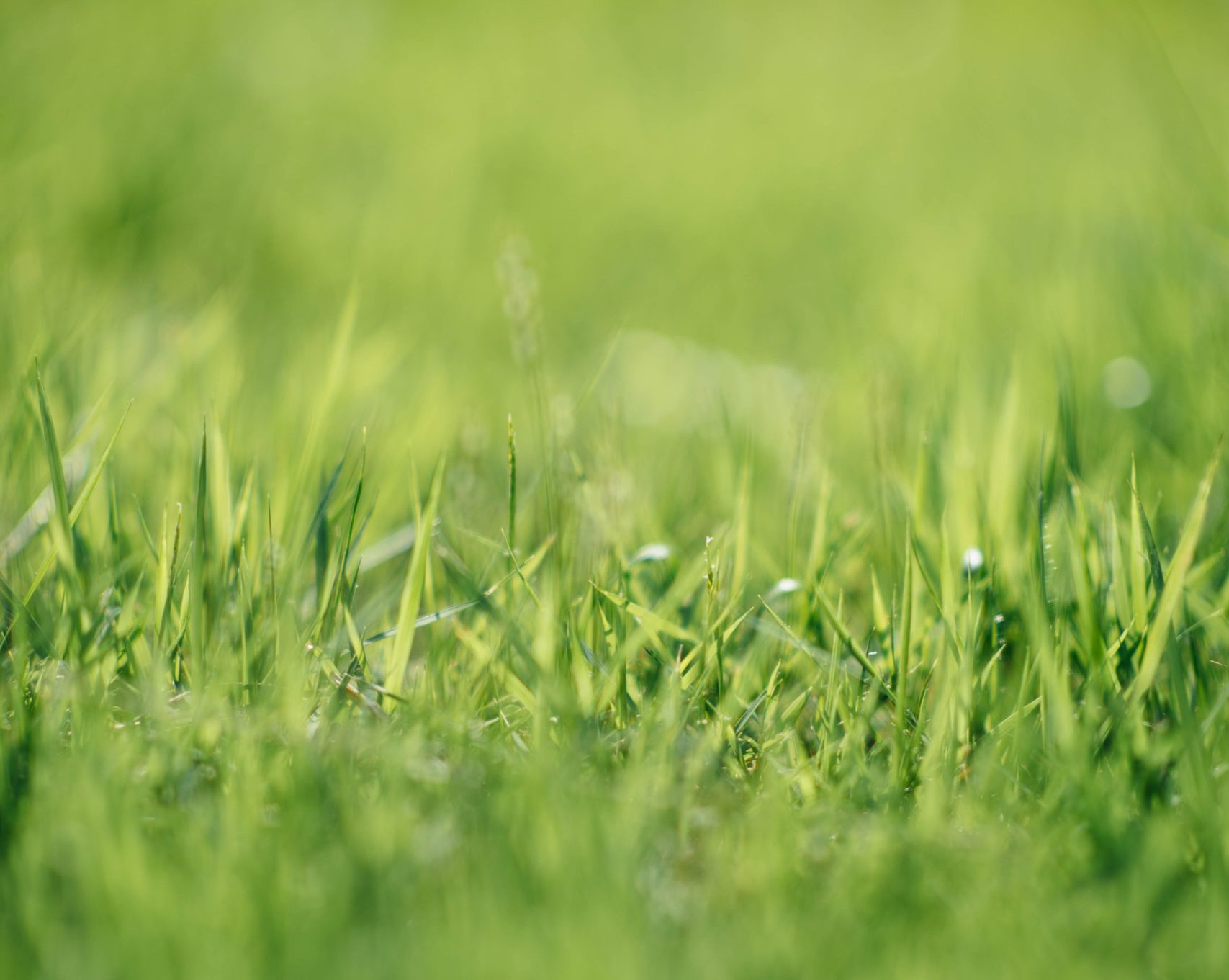 Our story
COVID-19 Resources Canada began with a Twitter exchange between our co-founders (Drs. Moriarty and Bourque) on March 20, 2020 about the challenges observed within each of their communities. At the time, non-COVID research activities had ramped down, while many public health labs were struggling with the shortage of reagents and qualified personnel to keep up with the rising demand for diagnostic tests.
Dr. Tara Moriarty, an infectious diseases researcher at the University of Toronto, wanted to replicate in Canada the successful deployment of German and South Korean scientists to scale up COVID-19 diagnostic testing.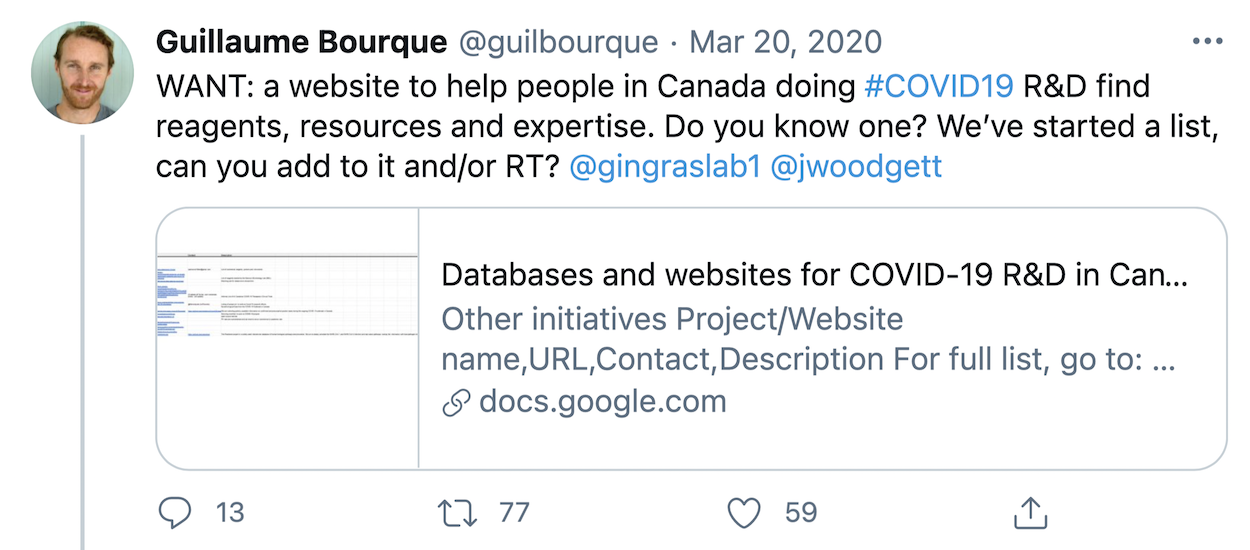 Dr. Guillaume Bourque, the Director of Bioinformatics at McGill University's Genome Centre, and Canada Research Chair in Computational Genomics and Medicine had noticed that Canadian COVID-19 researchers were struggling to find collaborators and key resources.
They had independently begun building tools to help Canadian scientists respond to the pandemic by collecting research resources and recruiting scientific volunteers. By the next day, courtesy of Twitter, they had met more than 20 academic, government, and private web developers; science communicators; bioinformaticians; and graduate and medical students and had formed COVID-19 Resources Canada. Within a week www.covid19resources.ca was launched with the mission of supporting Canada's response to the pandemic.
As the first wave of infections rose in Canada, our multidisciplinary team worked collectively and cohesively to identify areas of need and create agile solutions in response. These solutions included creation of a website to host pan-Canadian research databases to help interconnect the research community and a nationwide volunteer database to facilitate identification of qualified personnel for public health, long-term care and community-based initiatives.
Currently, we are using our network of multidisciplinary experts and volunteers from our volunteer database to tackle one of the most challenging aspects of the pandemic: the rampant COVID-19 misinformation. We have partnered with a number of Canadian organizations to launch a series of science communication initiatives to help bridge existing knowledge gaps and dispel myths surrounding COVID-19 and the Canada-wide response.
Since its start, COVID-19 Resources Canada has:
Recruited and deployed thousands of volunteers in pandemic-related initiatives across the country;
Tackled misinformation through community discussion forums, expert written articles and social media campaigns;
Created databases to help scientists working on COVID-19 projects find funding opportunities and collaborators, exchange reagents, and list their projects and expertise.
Vaccine Conversations Workshop Facilitators
Volunteer Alumni (Past contributors)
Janet McElhaney, MD
Karen Maxwell, Professor
Mary Ann Kizhakechethipuza, Business Analyst
Christine Charnock, Volunteer
Paul Chen, PhD Student, University of Toronto
Vivian Cheung, MSc
Lindsay Dayton, MSc
Peter Fairman, PhD
Hortense Gallois, Centre of Genomics and Policy, McGill University
Aleeza Gerstein, Assistant Professor, University of Manitoba
Greet Kallikorm, Project Manager
Erin Liu, PhD Student, McGill University
Geneviève Marchand, Volunteer
Chinmaya Sadangi, PhD

Serge McGraw, Associate Professor, Dept. Obstetrics-Gynecology, Université de Montréal
Alyaa Mohamed, Volunteer
Farah Qaiser, MSc, Graduate Student, University of Toronto
Pardis Riahi, Volunteer
Roman Soler, UI Designer, Front/Backend Developer, CEO of Cactushive Inc.
Ilke van Hazel, PhD DDS, Dentist, Researcher
Ma'n H. Zawati, Centre of Genomics and Policy, McGill University
Bensun Fong, PhD