COVID-19 Resources Canada est une initiative populaire, lancée en mars 2020 visant à faciliter la réponse du Canada à la pandémie de COVID-19.
Since its start, COVID-19 Resources Canada has:
Recruited and deployed thousands of volunteers in pandemic-related initiatives across the country;

Tackled misinformation through community discussion forums, expert written articles and social media campaigns;

Created databases to help scientists working on COVID-19 projects find funding opportunities and collaborators, exchange reagents, and list their projects and expertise.
Our goals are to:
Serve as a reliable source of information and expertise for COVID-19 research in Canada

Support COVID-19 capacity-building in public health, research, anti-misinformation and grassroots initiatives

Provide Canadians with access to information about the COVID19 vaccinations through online kitchen table style discussions.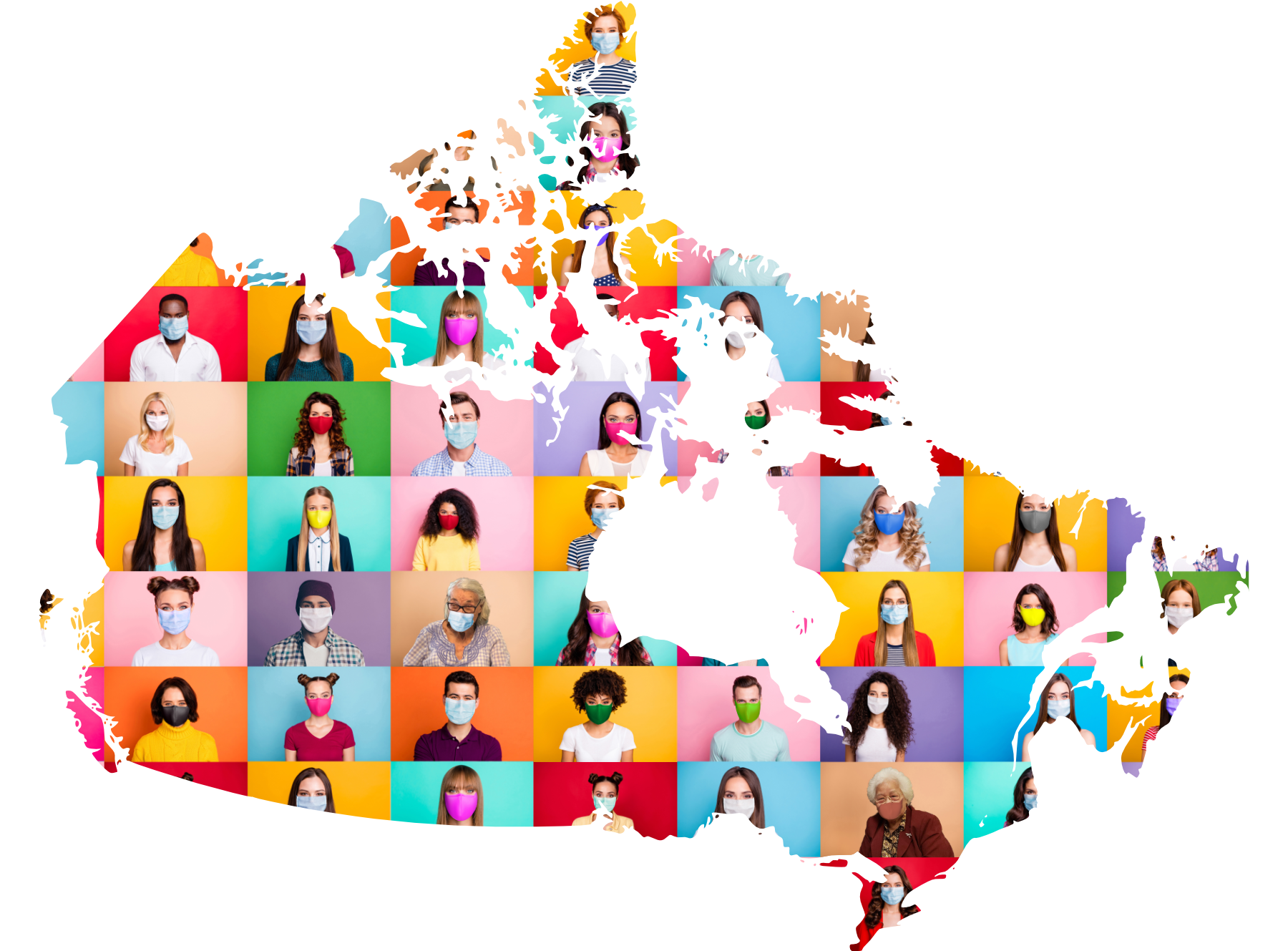 Our Story
At the start of the COVID-19 pandemic, a group of Canadian researchers, clinicians and community members joined together to form COVID-19 Resources Canada – an organization committed to providing logistic and scientific support to COVID-19 response efforts across our country.
In Phase 1 of our project we recruited over 6000 Canadians with expertise in data analytics, programming, laboratory research, mental health, public health and contact tracing to help support community and government needs. Together, our group members contributed more than 140,000 hours of work to initiatives including contact tracing, PCR testing, vaccine development research and more.
As the pandemic wore on and vaccines were developed, Canadians had a new need: a place where they could discuss vaccine safety with expert physicians and immunologists in an open and judgment-free way. In response, COVID-19 Resources Canada hosted over zoom sessions, where we spoke with over 25,000 Canadians about the safety and development of the various COVID-19 vaccines.
Finally, as COVID-19 infection rates decreased and government restrictions were eased, Canadians told us they wanted greater clarity about how to return to work, family, and social gatherings in safe ways. Our group once again pivoted – hosting daily "COVID Discussions" webinars where we discussed important topics like masking, mental health and safe ways to gather.
In our 30 months of operation, COVID-19 Resources Canada volunteers devoted a total of 140,000 hours. We have spoken with 25,0000 Canadians and impacted millions more through our support of community and government initiatives, improving vaccine uptake, and outlining thoughtful ways for Canadians to balance the risks of COVID-19 while attending to their personal and family needs.
As of July 2022, COVID-19 Resources Canada has once again entered a new chapter – one that allows our core members to focus on their priorities outside of this group. While we will no longer be as active as we used to, you will still see us from time-to-time as we collaborate with our partner. We will keep you updated on our newest projects through this website.
We are grateful to have been able to serve Canadians throughout the pandemic. We look forward to continuing many of the conversations we have started .
Sincerely,
The COVID-19 Resources Team
Guillaume Bourque PhD
Co-founder, Central Admin Team
Tara Moriarty PhD
Co-founder, Central Admin Team
Hira Brar
Infographic Specialist
Michelle Brazas PhD
Project Manager Central Admin Team
Grace Yaeeun Kim
Research Assistant
Fatima Tokhmafshan MSc
Research Database Manager & Science Communications Co-Lead
Amanda Frucci
Communications and PR
Adrielle Houweling
PNP, ECBA, MSc
Eoghan Moriarty
Solutions Architect Web Team
Alberta Lead
Vacant Position – All volunteers are welcome!
Northern Lead(YU, NWT & Nunavut)
Vacant Position – All volunteers are welcome!
Vaccine Conversations Workshop Facilitators
Kimberly Gauthier PhD
Facilitator
Kadence Bunke PhD
Facilitator
Adeyinka Onikan MD, MPH, PMP
Facilitator
Wendy Stanyon PhD
Facilitator
Wendy Stanyon PhD
Facilitator
Anna Cooper Reed BSW, MSW
Facilitator
Neal den Hollander PhD
Facilitator
Janet McElhaney,

 

MD
Karen Maxwell,

 

Professor
Mary Ann Kizhakechethipuza,

 

Business Analyst
Christine Charnock, Volunteer
Paul Chen, PhD Student, University of Toronto
Vivian Cheung, MSc
Lindsay Dayton, MSc
Peter Fairman, PhD
Hortense Gallois, Centre of Genomics and Policy, McGill University
Aleeza Gerstein, Assistant Professor, University of Manitoba
Greet Kallikorm, Project Manager
Erin Liu, PhD Student, McGill University
Geneviève Marchand, Volunteer
Chinmaya Sadangi,

 

PhD

Serge McGraw, Associate Professor, Dept. Obstetrics-Gynecology, Université de Montréal
Alyaa Mohamed, Volunteer
Farah Qaiser, MSc, Graduate Student, University of Toronto
Pardis Riahi, Volunteer
Roman Soler, UI Designer, Front/Backend Developer, CEO of Cactushive Inc.
Ilke van Hazel, PhD DDS, Dentist, Researcher
Ma'n H. Zawati, Centre of Genomics and Policy, McGill University
Bensun Fong, PhD